Mundane Sounds: 05/06
"these songs prove Kelley's superior talent. After all, isn't it a sign of brilliance when an artist's "rejects" and unreleased songs are of such a high standard? I think so. These demos are excellent, and this is a wonderful collection." read more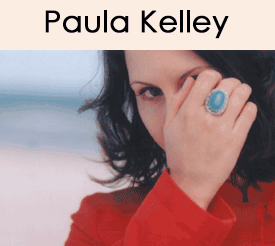 One of the great unexpected circumstances of moving house is unearthing long-lost memories in physical form. For Paula Kelley, this manifested itself in the discovery of a box of cassette tapes that seemed hauntingly familiar. Looking at scrawled markings like "Snot Rod" and "BW Shit," Paula knew she had uncovered a potentially embarrassing collection of early demos and god knows what else. Teaming up with guitarist/co-producer Aaron Tap to digitize the lot resulted in a cache of nearly 100 recordings ranging from the bizarre to the sublime.
"At first I was skeptical about letting these recordings, that were never intended for release, out into the open," says Paula. "After weeding through the underbrush, though, I was quite happy to have rediscovered some tracks I hadn't thought about in years."
After discarding the chaff - early boombox recordings, half-formed 4-tracks, and dubious live tapes - the pair discovered that there was a cool collection developing in front of them. The resulting album, Some Sucker's Life, Part 1, is a compelling set of songs that showcases this talented songwriter at many different stages of her career. Drop Nineteens fans will be elated to hear "Born to Be A *," a track Paula wrote and recorded while living in England shortly after extricating herself from the dysfunctional shoegazing band. Two demos from her first "solo" band, Hot Rod, are included here, as well as a slew of tracks from her days in Boy Wonder. Some are enlightening early versions of songs that later appeared on the band's two releases, but many others never saw the light of day.
Appropriately, as this compilation was spurred on by Paula's move to L.A., the most recent recording included on the disc is a demo of the first song she wrote after settling in. "Goodbye September" is an emotive ballad driven by trumpet and subtle strings, and held aloft by its deeply personal lyrics, "Goodbye November / Goodbye to weather / I'll miss your old ways / When you slapped me in the face / Just because you cared / To make sure I felt you there."
There are some moments of levity, too, as Paula has completed an old 4-track recording of Blue Oyster Cult's "Burnin' For You," and teamed up with Boston's surf-and-turf kings The Weisstronauts to present a longtime fan favorite; the country-tinged "Talk Away."
"It's been refreshing to spend some time with these songs," says Paula, "[These are some of the tunes] I wrote before I moved into the grandiose arranging that I do now. It's like a breather, the calm before the storm."
Paula will be touring in support of Some Sucker's Life, Part 1 with an atypical low-fi acoustic set -- just her piano and an acoustic guitar (and maybe the odd trumpeter here and there).
Paula's previous release, The Trouble with Success or How You Fit into the World, was tipped by both the Boston Herald and the Boston Phoenix as the 'local disc of the year' in 2003, and made many other publications' year-end Top 10 lists. The record was released in 2004 in Europe by Polaris/Sony and her spring tour of France saw the band playing to full houses, leaving many new fans with their jaws on the floor.
Paula Kelley is currently living in Los Angeles, where she is expanding her arranging resume by working on songs with a variety of other artists, as well as recording the follow-up to The Trouble with Success.