The Standard Times: 04/08/04
these guys ... are sure about what they want to convey, resulting not in a sound so much as a collage of emotional experiences. ... read more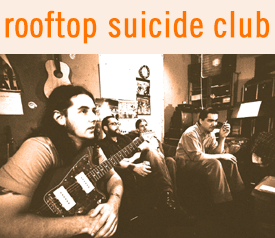 The four longtime friends that make up Rooftop Suicide Club were brought together by a fanatical love of music and an almost desperate escapism. Scraping it out in their working-class hometown of New Bedford, MA, they began modestly by recording skeletal, but inspired rock songs on guitarist/vocalist Haskell's cannibalized computer in a converted textilemill-turned-rehearsal-space. The band's rabid fan base made frequent visits to the their website to download tracks from a regularly-updated offering of demos, live recordings, out-takes, and covers.
It was these recordings that caught the attention of Stop, Pop, and Roll A&R director Aaron Tap. Says Tap, "When I heard the progression in those recordings I knew that not only was this band ready to make a full-length record and break out, but that they likely have an endless supply of incredible and surprising records in their future. Getting Rooftop Suicide Club into a real studio was like giving a brilliant finger-painter brushes for the first time."
Always Like This, the band's full-length debut, is a thrilling emotional ride replete with examples of their effortless and unlikely fusing of indie-rock aesthetics, lush harmony vocals, and unflinchingly grandiose guitar solos. The album's creation was a welcome challenge. "We were pretty much kinless in New Bedford when we started out," recalls Haskell. "Unbearable as it was to try to create harmony-laden, melodic rock in an environment filled with horrifying growls, screams, and 128th note machine-gun fire bleeding through every wall crack, I think it actually fueled us to be THAT much different from everything surrounding us."
"Radio" - the two-minute bastard son of The Smiths' "Panic" and the Beatles' "Revolution" - and "The Bones That Keep Us Alive" with its jangly pop verses contrasting with dark, wordless chorus are album highlights. The catchy anti-anthem "Gold Rush," a longtime fan favorite, sits neatly alongside newer songs like "If I Could Tell the Truth," which features the telling lyrics, "If I could tell the truth/about inside my head/and what is it you're looking for today/you'd think that I was lying anyway/If I could let it out/I wouldn't have no friends/I'd stand alone inside my own regret/and you'd decide you never wanted it." Those two tracks seamlessly abut the gentle ballad "I Could Die in Your Arms." Sung by pianist/guitarist Jeff Gobush over a simple, yet emotive piano and cello accompaniment along with the indispensable rhythm section of Eric Stotts (bass) and Michael Almond (drums), the song calls to mind Burt Bacharach's brusquely melodic collaborations with Elvis Costello.
The members of Rooftop Suicide Club are determined to create and to constantly challenge themselves. It's a drive that is at times as frantic as the band's name implies and leads to accordingly dramatic results. Vocalist/pianist/guitarist Jeff Gobush summed it all up in a recent interview, answering when asked what he would be if not a musician: "absolutely nothing." He needn't worry.
Remember: The Rooftop Suicide Club is a band. It is not an actual club. Please do not commit suicide.